The conference location
Guilin university of technology (Library lecture hall)
No. 12 Jiankan Road, Qixing District, Guilin City, Guangxi, China
Dear participants of Delegates:
        Since the conference is held in summer in Guilin, when booking a hotel room stays tight, please book the accommodation as early as possible. For your convenience, we prove accommodation booking services.If you want to use this service, please contact the hotel accommodation before August 31st, provide your booking information. Thank you.
Conference service contacts
Registration and conference:ZeGuang Lu +86-0-18618211101
Accommodation and catering:

Recommended hotel
1) ¡¾Minfeng International Hotel Guilin¡¿(Registration Desk)No. 12 Jiankan Road, Qixing District, Guilin City, Guangxi, China
     Contact person: Deng Wei
     Contact number: 0086-15677375730
    Superior twin beds (70 Rooms): RMB258Yuan/ Room/ Day/ With breakfast(Full house )
    Superior Big Bed Room (10 Rooms): RMB258Yuan/ Room/ Day/ With breakfast(Full house )
    Zero-pressure twin bedroom (15 Rooms): RMB308Yuan/ Room/ Day/ With breakfast(Full house )
    Zero Pressure Big Bed Room (9 Rooms): RMB308Yuan/ Room/ Day/ With breakfast(Full house )
    Mother-child room (4 Rooms, 1 large bed + 1 benchmark bed): RMB428Yuan/ Room/ Day/ With breakfast(Full house )
    Three rooms (6 Rooms, 3 beds): RMB428Yuan/ Room/ Day/ With breakfast(Full house )
2)¡¾7 Days Hotel (Guilin Seven Star Park University of Technology)¡¿ No. 41 Jiangan Road, Qixing District
     Contact: Li Litao
     Contact number: 0086-17777332379
     Standard Room (25 Rooms): RMB120Yuan/ Room/ Day/ With breakfast(Can be scheduled )
     Queen Room (55 Rooms): RMB105Yuan/ Room/ Day/ With breakfast(Can be scheduled )
     Queen Room (9 Rooms, slightly smaller): RMB95Yuan/ Room/ Day/ With breakfast(Can be scheduled ) 3)¡¾Garden Holiday Hotel¡¿ No. 46, Liuhe Road, Qixing District (National Exhibition Center area, near Seven Star Park)      Contact: Zhang Yifang
     Contact number: 0086-18078458611, 13607739333
     Standard room in front building (92 Rooms, large room, slightly renovated): RMB138yuan/ room/ day/ with breakfast(Can be scheduled )
     Front floor large bed room (11 Rooms, large room, slightly renovated): RMB138Yuan/ Room/ Day/ With breakfast(Can be scheduled )
     Standard room of VIP building (68 Rooms, small rooms, slightly renovated): RMB168Yuan/ Room/ Day/ With breakfast(Can be scheduled )
     VIP room double bed room (10 Rooms, small room, slightly renovated): RMB168Yuan/ Room/ Day/ With breakfast(Can be scheduled )
Traffic
:
Airport:
Guilin Liangjiang International Airport£º
£¨35 km,about 60 minutes, take a taxi about £¤90 RMB.£©
Railway station:


Guilin Railway Station
:(5 km,about 20 minutes, take a taxi about £¤15 RMB)
Guilin North Railway Station (High Speed Rail Station):
(7.6 km,about 20 minutes, take a taxi about £¤20 RMB)
Organizing Committee
February 10,2019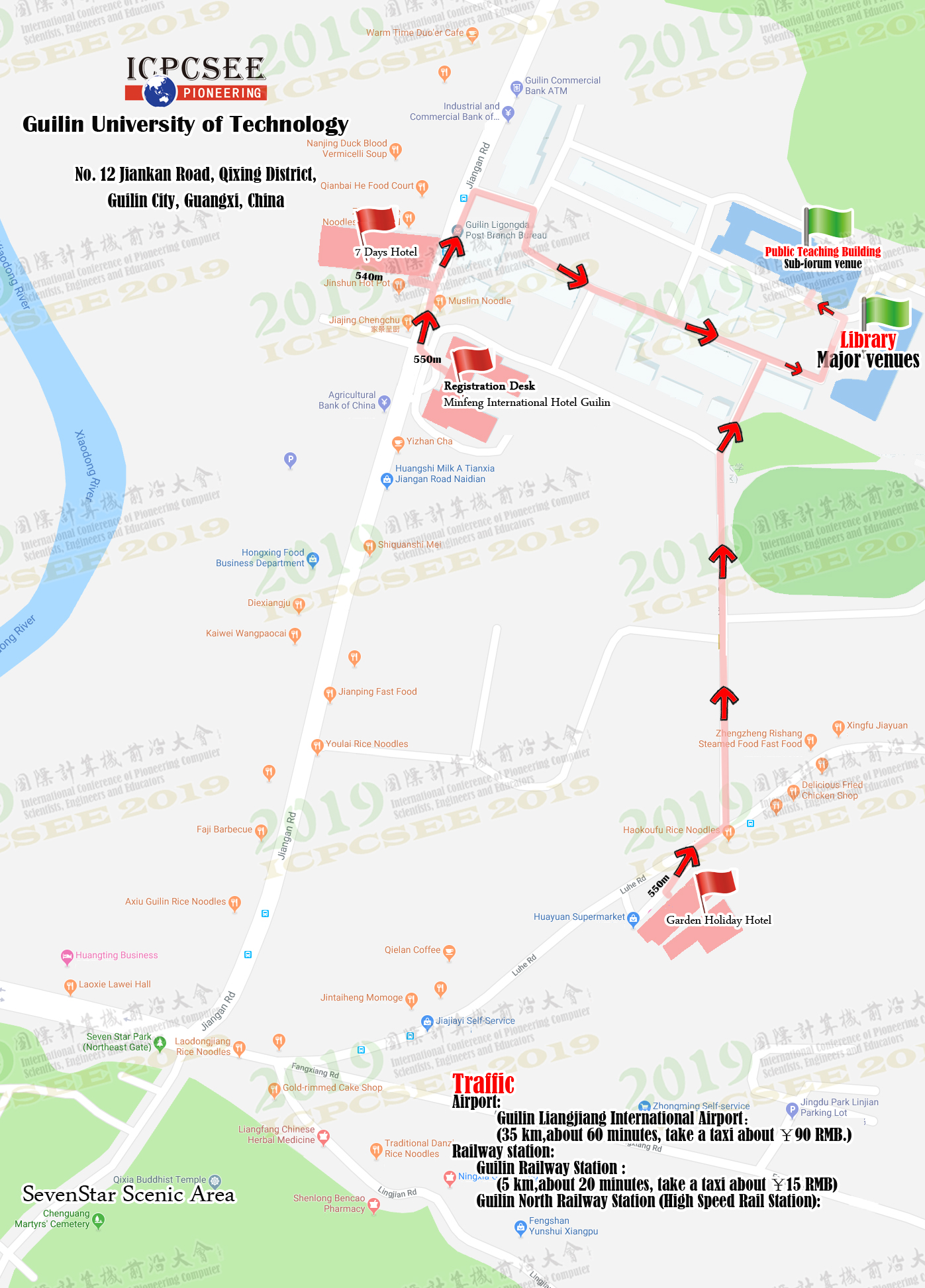 £¨Save image as visible£©